Very often, Christians feel down and depressed. This can be for a variety of reasons, such as sin, personal struggles, or even the general state of the world. But regardless of the cause, we need to remember that God is with us, and he loves us deeply. In this blog post, we'll explore some ways to encourage ourselves in the Lord – even when we're feeling at our lowest point.
What does it mean to encourage yourself in the Lord?
It means reminding yourself that "God is so faithful and trustworthy – no good thing will He withhold from those who walk uprightly" (Psalm 84:11). It provides a sense of contentment, peace, and hope when life becomes difficult.
How did David encouraged himself in the Lord?
King David is known for his unwavering faith and reliance on God, even in the midst of difficult circumstances.
In this particular instance, David and his men returned to their city to find it burned down and their families taken captive. In the midst of their grief and despair, the men turned on David and spoke of stoning him. However, instead of wallowing in self-pity or despair, David chose to encourage himself in the Lord.
He did this by remembering God's past faithfulness and goodness towards him, and by reaffirming his trust in God's promises. Hence, he sought for direction from God. Through his example, David shows us the importance of seeking God, even when faced with seemingly insurmountable challenges.
So how do I encourage myself?
Sometimes, try to encourage yourself with positive self-talk such as 'Yes I can make it through Christ Jesus who gives me the strength. Positive self-talk can help you enter into the right frame of mind.
Establish a personal relationship with Jesus Christ. Spend time reading the Bible and praying so that you can get to know Him better.
Find scriptures that encourage you and write them down or bookmark them in a Bible app. A quick tip is to paste them on your room door/bathroom door/mirror. Somewhere you can see it every day you wake up.
When you feel discouraged, read through your verses and allow them to speak to your heart. Read it out loud as many times as possible while you beat your chest affirmatively.
Thank God for His faithfulness and for always being there for you, no matter what. Lean on Him for strength, and trust that He will help you through whatever you are facing.
Other Things You Can Do To Encourage Yourself In God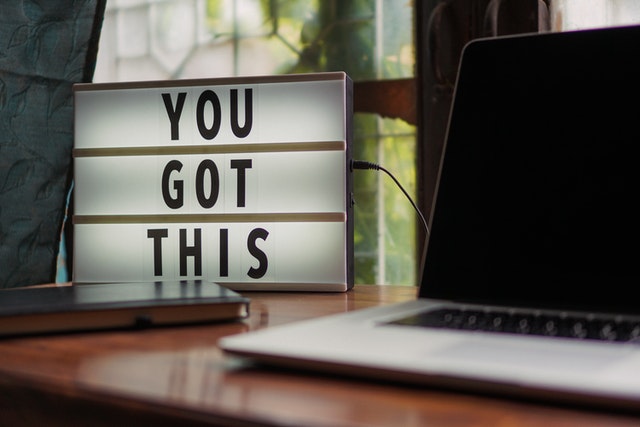 Take your eyes off the distractions of the present situation. It can be very overwhelming if you keep looking at how bad your current situation is.
Help others in your everyday life. A feeling of satisfaction can overwhelm you when you extend a hand of help to others even when you are down. One day, I was on a bus heading home when I saw a pregnant woman hawking some locally made food. She looked tired and I was sure she needed some rest, but no sale, no pay! Even in my awful state of mind, I dipped my hand into my wallet and gave her some money. She was surprised and thankful. I was glad I could help!!! Apart from sharing money, I also encourage you to share your wealth of knowledge with others too.
What does the Bible say about encouraging yourself in the Lord?
Something remarkable happened in 1 Sam. 30:6.
In 1 Sam. 30:6, David encouraged himself in the Lord when he was feeling down. He recognized that God was with him and would help him through his troubles. This shows that it's important to encourage yourself in the Lord when you're feeling down because He is always there for you.
Recognizing His presence and His love for you will help to lift your spirits and give you the strength to face whatever challenges you're facing. So, if you're feeling down, encourage yourself in the Lord today! He is always there for you.
Here are eight other bible verses that will help you to encourage yourself in the Lord.
Acts 18:9-10
1 Peter 5:7
Deut 31:6
Psalm 23:4
Deuteronomy 31:8
Psalm 27:14
Psalm 31:24
Joshua 1:9
Conclusion
Encouraging yourself in the Lord is an important part of maintaining your faith. It can be easy to get discouraged, but when you take the time to connect with God through prayer and worship and encourage yourself with His Word, you will find the strength you need to keep going.