The Holy Spirit (Spirit of God) is the third person of the Trinity, and He is also the comforter that Jesus Christ promised will come and dwell inside everyone who believes in the gospel forever. However, the Spirit of God is not idle, He is the power of God. 
And the touch of the Holy Spirit implies His operations. In this article, we'll delve more into what that means and the things that happen when the Holy Spirit touches you. Keep on reading.
What happens when the Holy Spirit touches you?
As mentioned earlier, the touch of the Holy Spirit symbolizes the manifestation of His power and influence in the life of a believer. We can see some expression of that in the Old Testament writings, how the Spirit of God will come upon (touch) men, and make them do or say things supernaturally. 
Let's see some of these examples of things that happen when the Holy Spirit touches men in the Old Testament. 
In Judges 3:9-10, we see that the Spirit of God came upon Othniel, and he was empowered to do what he cannot do naturally.  He ruled successfully over Israel, went to war and prevailed against his enemies. 
We also saw instances of how people prophesied (speaking the mind of God) when they were touched by God's Spirit. 
Examples include Saul in 1 Samuel 10:10; Zechariah in 2 Chronicles 24:20, and also in Ezekiel 11:5. These are examples of the Holy Spirit touching them in the Old Testament. 
Now, checking through the experience of people in the New Testament – who have received the indwelling of the Spirit of God, we saw differences in the touch and manifestations of the Spirit through them – they spoke in tongues. 
And that's why we'll be considering next.
How do you feel when the Holy Spirit touches you?
The Spirit of God inside you as a believer in the New Testament (covenant) can stir up emotions within you. And also, fill you with a great surge of His power, making you feel overwhelmed with His warmth, love, and power. Ephesians 5:18-21 sheds more light on this.
Apostle Paul, in his writings to the church at Ephesus, makes a comparison of when a man is drunk with wine, he is submitted to the influence of that alcohol. So, he encouraged them to be continually filled, touched and influenced by the Spirit of God and not drunkenness. 
You may ask, "how does the Holy Spirit feel physically?". 
Judging from the above Scriptures, we saw the physical feel of the Holy Spirit in a man. Vs 19 of Ephesians 5 "…but be filled with the Spirit speaking to yourselves." When the Spirit of God fills you, He enables you to operate effortlessly in the supernatural. 
He can also stir you up to give thanks to God.
How do I allow the Holy Spirit to take control?
Just as we've seen in Ephesians 5: 18, before a man can be controlled and influenced by wine, he must have taken a large amount of it. 
He must have kept on drinking until he exceeded his limit; that's when you begin to see him staggering and saying words that make no sense because he's intoxicated with alcohol. 
So, Paul said there that, for you to be influenced and controlled by the Holy Spirit, you must continually speak to yourself. And how do you do that? 
You do that in psalms and hymns and spiritual songs, by singing and making melody in your heart to the Lord.
 Furthermore, by giving thanks always to God for all things. A sign that you are filled with and controlled by the Spirit is that He makes you speak in tongues and prophesy (Acts 2:4, Acts 4: 31, Luke 1: 41-42).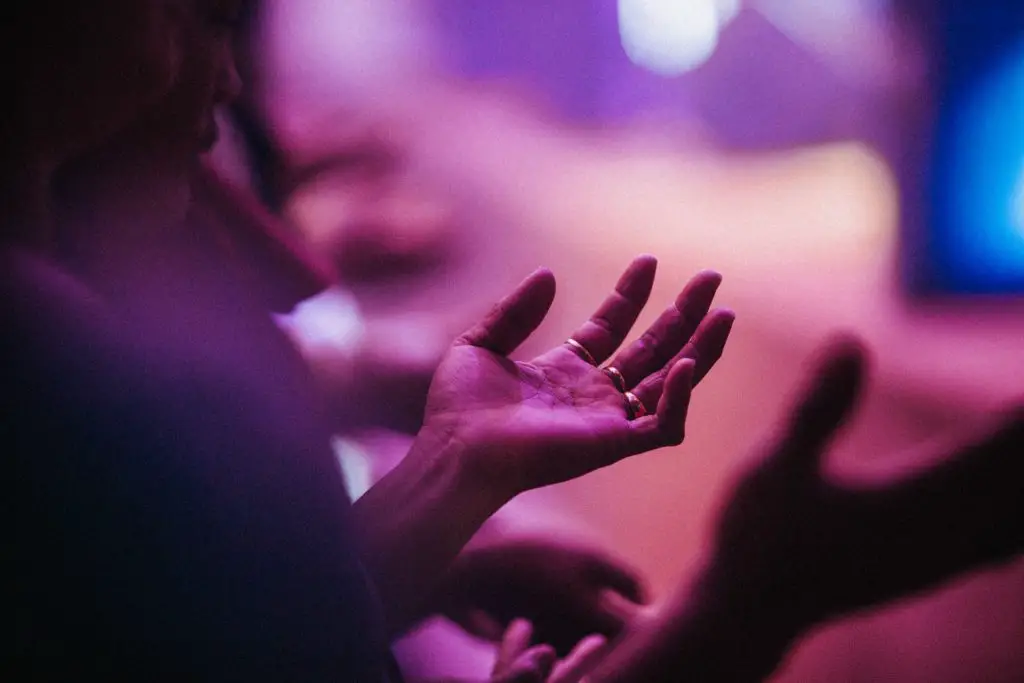 Can the Holy Spirit make you feel dizzy?
No, the Holy Spirit does not make one dizzy. Dizziness can come due to different reasons, some of which are anxiety, medical disorder or even stress. 
It's crucial to seek medical attention if you're undergoing dizziness. Also, take care of any physical or medical needs you have. The Holy Spirit bring feelings of clarity, joy and peace to your body and mind. As well as positive emotions such as patience, love and vitality (Galatians 5: 22-23).
Does the Holy Spirit make you shiver?
Yes, the Holy Spirit can make you shiver. However, it's not in dreadful fear, but in reverential fear of God's awesomeness and greatness. When you experience the power of God, it makes you trust His faithfulness and depend on Him for more.
Why do I cry when I feel the Holy Spirit? 
You must have found yourself asking this question, "why does the Holy Spirit make you cry?". Maybe you've found yourself crying during prayer or worship, and you might be wondering what's going on. Although it's an unusual thing, it is normal. 
So, He's why you cry when you feel the Holy Spirit.
 Psalms 16:11, "You make known to me the path of life; in your presence, there is fullness of joy; at your right hand are pleasures forevermore". 
The Holy Spirit is the Spirit and presence of God, and you carry Him on your inside (1 Corinthians 3: 16 & 6:19).
The Holy Spirit can stir up overwhelming emotions and feelings from within us. 
Cry of happiness can come from you seeing a heartwarming movie or even listening to songs. You can experience a different level of uncensored satisfaction and joy when you feel the touch of the Holy Spirit. This comes in the form of joyful tears.
Conclusion
When the Spirit of God touches you, it makes you see, do and feel beyond the natural. He overwhelms you with the feeling of love and joy, which can result in you crying. Do not reject being filled with the Spirit, desire it continually.