When faced with difficult circumstances, such as a medical diagnosis or news of an uncertain future, it can be easy to succumb to sadness, worry, and desperation. It's crucial to turn to Jesus Christ for guidance in these seasons. In this blog post, I will share practical steps for overcoming fear and anxiety as believers in Christ – so if that's something you need right now, keep reading!
---
Table of Contents
---
How Fear Can Creep into Your Life
Fear and anxiety do not come from God. 2 Timothy 1:7, "For God has not given us a spirit of fear, but of power and of love and of a sound mind." However, this doesn't mean that believers are immune to these feelings. 
Fear and anxiety can creep into our lives in many ways – through traumatic experiences, negative thoughts, and even the constant flood of information from media outlets. These fears can prevent us from fully experiencing God's love, peace, and joy. 
So how do we combat them? 
Overcoming The Spirit of Fear and Anxiety: 6 Steps
Here are some practical things you can do to overcome fear and anxiety.
1. Turning to the Word of God
Turning to the Word of God is the first step in overcoming fear and anxiety. The Bible contains verses reminding us of God's sovereignty, love, and protection. God told Joshua in Joshua 1:8 to be strong and courageous, not to be afraid or dismayed, for He (God) is with him wherever he goes. 
This applies to us as well. When we fill our minds and hearts with the truth of God's Word, fear has no room to take hold.
Other bible verses like Isaiah 41:10, Psalm 23:4, and Philippians 4:6-7 are great examples of God's promises to protect and calm our fears. Make it a habit to read the Word daily and hide it in your heart so that you have a verse to fight and overcome when fear comes knocking on your door.
2. Don't Be Anxious
In Philippians 4:6-7, we are reminded not to be anxious about anything. Anxiety creeps in when we try to control things outside our control. It's important to remember that God is in control and has a plan for our lives. 
To remove anxiety, you should stop worrying about the things you can't handle and take it to the Lord in prayer.
3. Pray
Prayer offers us a direct line of communication with God. Philippians 4:6 says, "by prayer and supplication, with thanksgiving, let your requests be made known to God." 
Get Carol Peters-Tanksley's book on Overcoming Fear & Anxiety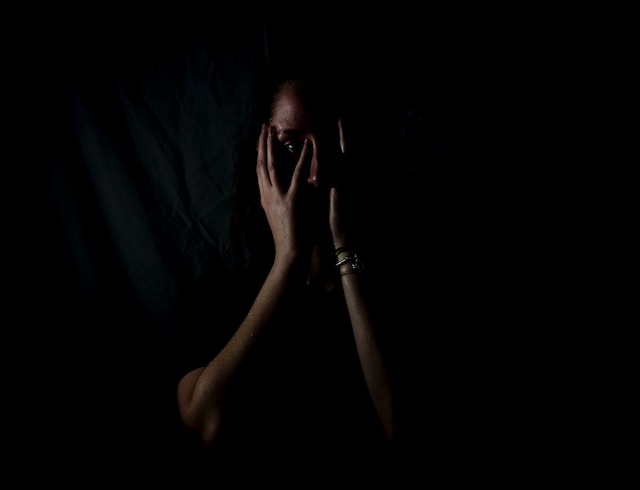 When we pray, we are casting our cares and worries upon Him. You can ask Him for strength to overcome fear and trust that God will provide you peace and comfort. 
Prayer also allows us to rebuke the spirit of fear directly. 
I remember a particular incident where I was cornered by four boys one hot afternoon. They took most of my belongings, including my bank cards. I was gripped with fear throughout that incident and fought so hard to bring myself under control.
I eventually did when they began asking for my bank details – and man, I had quite a tangible amount that day. I didn't know when I found my voice and began rebuking them in Jesus' name – shouting at the top of my voice!
They first tried to beat me up – yeah, I received some blows and kicks, but they didn't even know when I freed myself from their claws. And I took back some of my belongings as I ran for my dear life.
It was not a sweet experience, honestly.
4. Combat Fear with Faith
Matthew 17:20 says, "If you have faith as small as a mustard seed, you can say to this mountain, 'Move from here to there,' and it will move. Nothing will be impossible for you." 
When you trust God and believe He is in control, fear will lose its power over you. Faith is the antidote to fear. 
If you're afraid of being poor, stand in front of the mirror and tell yourself, "I'll never be poor."
If you're afraid your sickness will be terminal, tell yourself with faith that "I won't die from this sickness."
Do you understand the picture I'm trying to paint here?
Use the shield of faith to dispel the darts and arrows of fear – it works!
5. Reframe Negative Thoughts
Often, fear and anxiety arise from negative thoughts that we allow to take root in our minds. Romans 12:2 says, "Do not conform to the pattern of this world, but be transformed by the renewing of your mind." 
When you find yourself dwelling on negative thoughts, replace them with positive ones. Instead of thinking, "This situation is hopeless," remind yourself, "God is in control and will work all things for good." 
6. Go For Counseling
Lastly, do not hesitate to seek professional help if you need it. Sometimes, fear and anxiety can result from deeper underlying issues that require therapy or counseling. There is no shame in seeking help. And while it's okay to first approach your pastor for counseling, you should also seek professional help if you feel that will work for you.
While fear and anxiety may be common in our lives, as believers in Christ, it's important to remember that we have the tools and resources to combat them. By turning to God's Word, prayer, faith, and reframing negative thoughts, we can overcome them and live a life of freedom.
God Bless You!