Prayer is one potential source of solace and comfort. Groups can band together to pray until something happens — an act known as forming or participating in a "prayer chain." 
But what is a prayer chain all about, and how does it work? In this blog post, we'll take an in-depth look at how prayer chains function and show how they can offer much-needed support during difficult times.
What is A Prayer Chain?
A prayer chain is a practice within Christendom where individuals pray for a cause, person, or thing. People who participate in a prayer chain are united by their shared intention to support the individual(s) and things being prayed for through prayers. Prayer chains are also sometimes referred to as group prayers.
What Is The Purpose/Importance Of A Prayer Chain? 
The main purpose of a prayer chain is to use the power of prayer to get results for a common cause. The church has utilized prayer chains for centuries, especially when large-scale intercession and support were needed.
As believers come together in prayer, the power of their unified faith can be tremendously uplifting and comforting. Prayer chains also help build relationships between believers as they share a joint mission of support and care.
What Is A Church Prayer Chain?
A church prayer chain is a form of continuous prayer organized by the church. This is done for the church to have intercessors praying for a person or cause or fighting the devil's wiles through prayer. 
Some church prayer chains are done on the church premises, while others are done in various locations where the members of this prayer chain reside. All that matters is that prayers are made according to the prayer plan for that prayer chain.
Here's a book with powerful prayer points. It's written by Germaine Copeland and it's titled Prayers That Avail Much. I encourage you to read it if you haven't. You'll thank me later.
How Do You Start A Prayer Chain
To start a prayer chain, you should have the following ready.
A Prayer Plan: The prayer plan will help you outline how participants will pray. You can have people praying round the clock for a specific period and others praying at certain intervals for another prayer chain session. Having a prayer plan will help you coordinate the prayers effectively.
Willing Intercessors: If you have to coerce people to join the prayer chain, then you have the wrong people on your prayer team. You should have willing intercessors ready to stand in the gap and PRAY UNTIL SOMETHING HAPPENS! Your prayer will move faster when the people are eager to pray.
Communication Channels: Have a medium through which you can reach out to people who are part of the prayer chain. This can be through church announcements, emails, and social media, e.g., Facebook groups.
With these items above in place, you should start your prayer chain. The steps below apply if you're looking for tutorials on how to start a prayer chain on Facebook.
1. Communicate With The Prayer Chain Members
The first step to starting a good prayer chain is to communicate with the people involved in the prayer chain. Brief them on the objectives of the prayer and who/what they'll be praying for. Give them the prayer outline and other relevant information, e.g., names, bible verses, fasting routines where necessary, etc.
As I mentioned, the prayer chain participants should be dependable people WILLING to join in prayers. These people can also expand the chain with even more like-minded people they know. Or you can still have a limit on the number of participants in your prayer chain.
2. Start The Prayers
Don't delay starting the prayers after passing the vital information to the participants. For physical prayers, the prayer sessions should also have room for individuals to raise prayer points as the spirit of God leads them.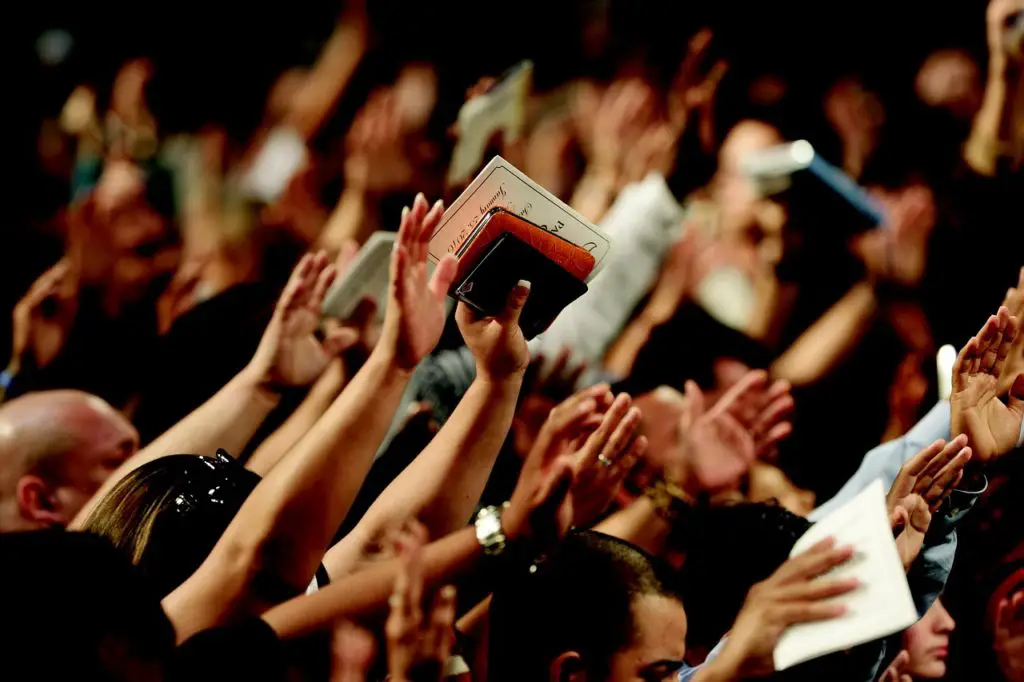 3. Meet regularly, either via social media or physically.
Forsake not the gathering of the brethren! So, try as much as possible to meet regularly to assess your prayers and allow participants to share any revelations God has given them during the prayers. This meeting could be daily or weekly, depending on the outline of the prayer chain sessions!
Don't Forget The Place of Thanksgiving
We all know how vital thanksgiving is. And as we pray for God's intervention and mercies, we should create time for thanksgiving within our prayer chain sessions! One of the things Jesus taught us is the importance of thanksgiving.
>> For Facebook Prayer Chains
You can create prayer chains by 
Sharing posts on your timeline and asking people to join. Be sure to have plans for praying and meeting in place. 
You can also use Facebook Christian groups. Some Christian Facebook groups let members post a post asking others to pray for them. 
If you're too busy to monitor the prayer chain you've made, delegate the duty to someone else.
>> For 24-Hour Chain Prayers
Someone asked me, "How Do You Start A 24-hour Prayer Chain?" I thought I should share the answer with you. The simplest way to start a 24-hour prayer chain is to create an outline and divide the prayer chain participants into groups.
Each group should pray for specific hours. Another group takes over the baton when their time elapses. This way, you can offer constant prayers around the clock without stopping.
Use the outline below to share the prayers.
GROUP A 12 AM to 6 AM
GROUP B 6 AM to 12 PM
GROUP C 12 PM to 6 PM
GROUP D 6 PM to 12 AM
Are Prayer Chains Biblical?
Yes, prayer chains are biblical. We see a typical example of prayer chains in Acts 12:5. The church prayed fervently for him to be released. And God hearkened unto their prayers. This is also a typical example of a church prayer chain.
How do You Pray in A Prayer Chain?
There's no one-size-fits-all pattern to praying in a prayer chain because the prayer plan can vary. But if you don't have a prayer plan – which I doubt will be the case – you can use the following steps to pray.
Thank God for everything, including the privilege to pray.
Present your requests to God.
Pray for strength to pray with all your heart.
Thank him again for answering your prayers.
Is A Prayer Chain and A Prayer Circle The Same?
They're similar but not the same. A prayer chain comprises believers who follow an organized pattern to pray for someone or something. On the other hand, a prayer circle involves people coming together in one place to hold hands in a circle as they pray. The prayer circle is commonly used during vigils to keep people from sleeping while prayers are ongoing.
Prayer Chain Examples From The Bible: 
Here are some significant prayer chain examples from the bible. I hope you'll find them helpful.
Mathew 18:20 -21
Acts 12:5
James 5:16 
2 Corinthians 1:11
Acts 12:12 
Conclusion 
Prayer chains are a great way to bring people together in prayer. They allow multiple like-minded individuals to pray for the exact cause and to experience God. If you need help starting a prayer chain, these steps will help you on your journey. 
Remember to communicate with the participants, start the prayers, and meet regularly, either online or physically. 
Hit the share button and comment below to let me know your thoughts about prayer chains.