Prayer is a natural impulse of faith and devotion to God. It is how we pour out our heart's desires to God in petition, thanksgiving, adoration, and confession as we submit ourselves to His will. It is a passionate affair, and we might eventually cry aloud to God. However, you might ask, 'What does the Bible say about praying out loud?' We'll provide the answer to this in this article; let's get started.
Answer: What Does The Bible Say About Praying Out Loud? 
No biblical evidence directly points to praying out loud as more or less effective than praying silently. Therefore, we can deduce that one is not more or less effective than the other. Instead, the scripture offers examples of public prayers in different scenarios.
Examples of prayers made out loud include Christ's four-word cry of agony on the cross (Matthew 27:46), Solomon's prayer at the temple dedication (1 Kings 8), and many more. Hannah's prayer in 1 Samuel 1:10 is a typical example of silent prayers in the bible.
There's nothing wrong with praying aloud or silently, but if you're praying aloud, don't do it to impress others. That's why Jesus taught his disciples not to be like the Pharisees who pray publicly just to show off. Whether silently or aloud, our prayers should be Christ-centered and offered up in humility and brokenness.
How to Pray Out Loud
Many people struggle with the fear of praying out loud. It's easier when you're home and alone, but when prompted to pray in front of others, it can be hard for some people. This is normal, and if you're one of them, you probably wonder how to pray out loud. 
The ideal way to learn how to pray out loud is to start doing it when you're alone. If you're not used to praying aloud, it might seem weird initially, so start behind closed doors where nobody listens. However, you will soon find that it's the easiest thing to do as you continue to pray regularly. Like most things, all it takes is practice, and you'll become more comfortable with praying out loud.
Here are some cues…
Praise God for who he is
Confess every sin and ask for God's forgiveness
Thank God for provision and protection
Create a prayer list and make your requests known to him, saying each one out loud.
Read scriptures out loud, especially psalms.
Prayer changes many things, starting with yourself. Praying out loud can change our beliefs and actions when troubles arise.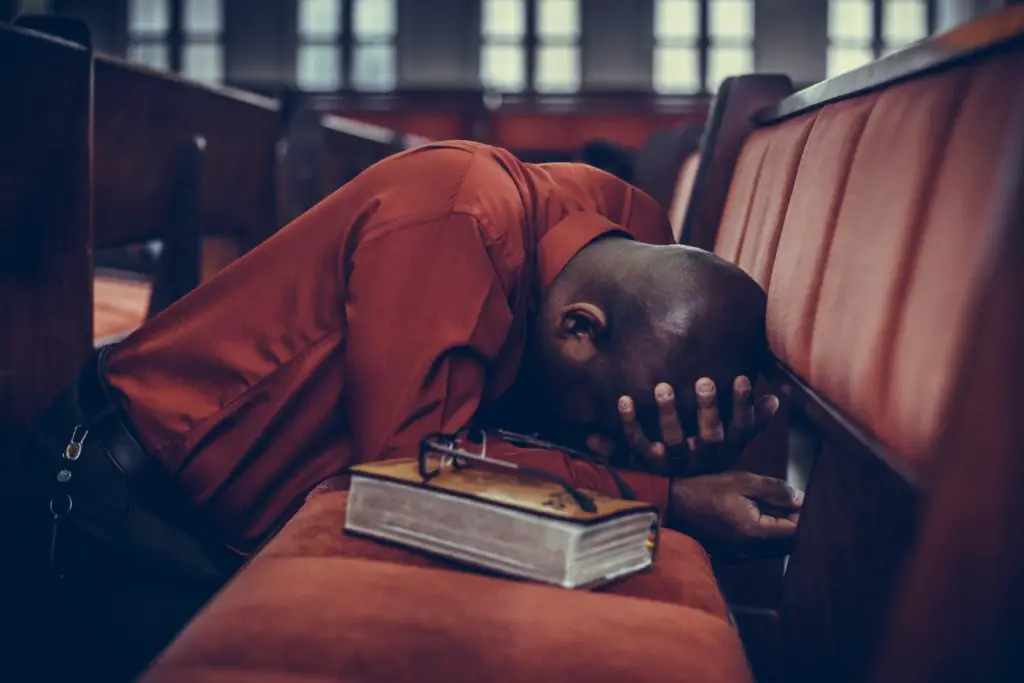 Praying Out Loud Bible Verses
What does the Bible say about praying out loud? The Bible provides guidance about praying out loud in the verses below.
1 Corinthians 14:16
Romans 8:26
Psalm 77:1
Acts 4:24
Hebrews 5:7
Benefits of Praying Out Loud
Although it might be very uncomfortable to pray out loud, it has many benefits. Below are some benefits of praying out loud.
It can change your internal dialogue and posture. For example, when you declare that God is enough and greater than your problems, it can help change the way you view things.
Praying out loud can help keep you awake if you're prone to falling asleep during prayer.
It can serve as practice for when you're called upon in public
It can effectively set the standard in your household to serve the Lord
When praying in a community out loud, can build your faith while you encourage each other
Conclusion
God is always listening to our prayers. Therefore, God hears your prayer and listens if you pray out loud. Therefore, praying to God, silently or out loud, is essential, and we should put our whole hearts into it. As long as you pray in faith, God hears your prayer and will complete what He started in you.